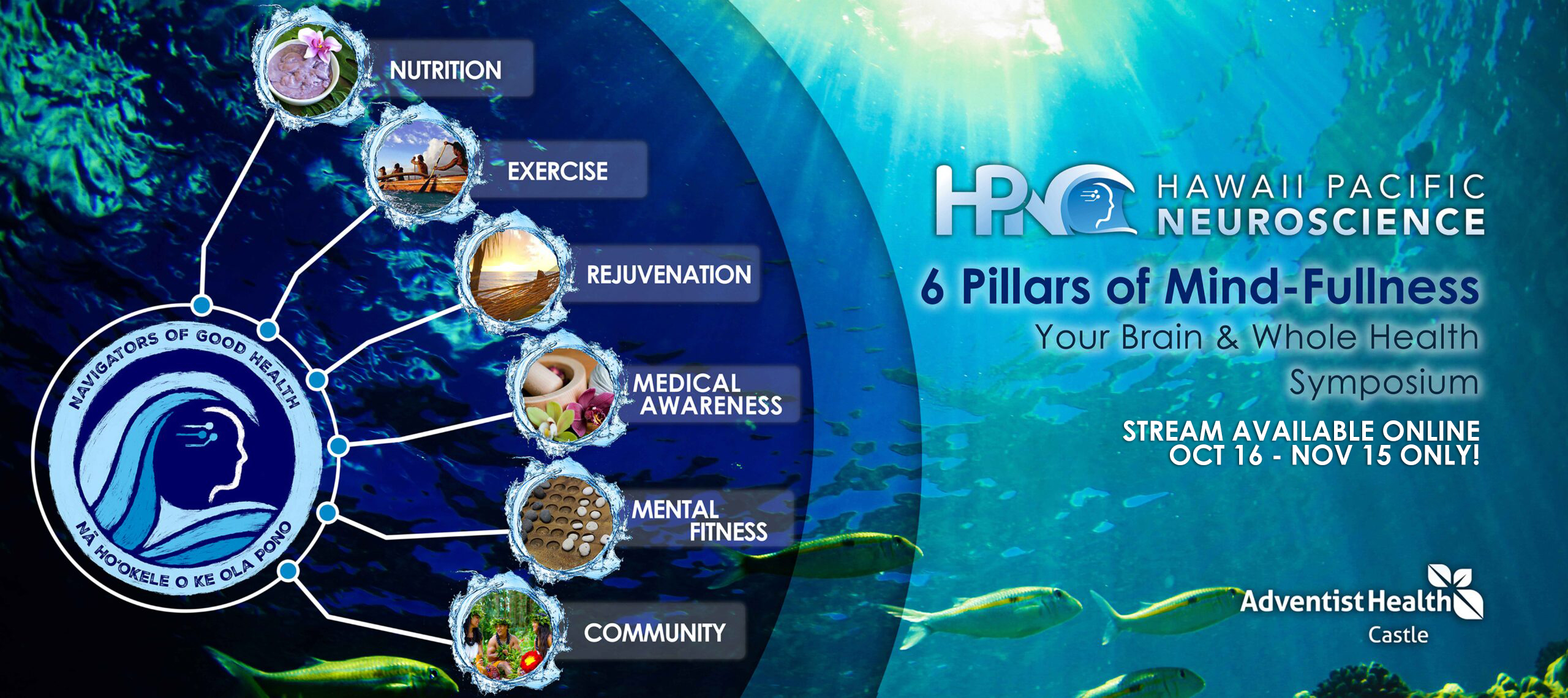 What are the six pillars?
PLEASE COMPLETE THE FORM BELOW TO REGISTER
The 6 Pillars of Mind-Fullness:
Your Brain & Whole Health Symposium is going VIRTUAL!

Be a Navigator of Great Health, Your Health
LIVE ONLINE 10.16.2020 9AM HST
Lifestyle has a profound impact on our overall health. The way you take care of your body now will determine your overall well-being for generations to come. Your actions today will lead to a better tomorrow.
Hawaii Pacific Neuroscience (HPN) is collaborating with health and well-being leaders in Hawai'i to extend a rare opportunity for the community to participate in the upcoming brain & health symposium.
Attendees will learn and experience 6 pillars of brain health: physical movement, healthy foods, medical management, sleep/relaxation, mental fitness and social interaction. These 6 proven methods will help you navigate to greater brain and ultimate whole health.
Due to many concerns regarding the spread of coronavirus (COVID-19), recommendations from the CDC, and uncertainty of mandates from our local government and health department, the decision was made out of an abundance of caution and care that we transition our HPN Brain and Health Symposium from an in-person event to a safe and virtual celebration.
The HPN Brain and Health Symposium is an opportunity for our community to join together in navigating to great health. We are truly grateful for your dedication and support as it is needed now more than ever. Please join us in this interactive and engaging virtual experience.
We hope you will join us in experiencing a day of wholeness, including wellness education by national speakers and expert leaders in neuroscience.
REGISTER NOW!
The video will be available for streaming 30 days upon receipt of the access link.
Message
It is my pleasure and honor to invite you to attend the first ever scientific and medical conference on Brain Health and Wellness in Hawaii. 1 in 6 people over 65 will develop neurological condition like Alzheimer's dementia which is currently without a cure or treatment. Research has shown strong evidence that lifestyle and wellness and how we live are directly linked to our risk of developing neurological disorders like preventing stroke and headaches. We have gathered Hawaii's leading experts in Brain Health and Wellness to kick off the first ever symposium in Hawaii and I invite you to join us on this journey.
Director and Principal Investigator
Clinical Research Center dedicated to Brain Science
Hawaii Pacific Neuroscience
Clinical Professor of Medicine (Neurology)
University of Hawaii John Burns School of Medicine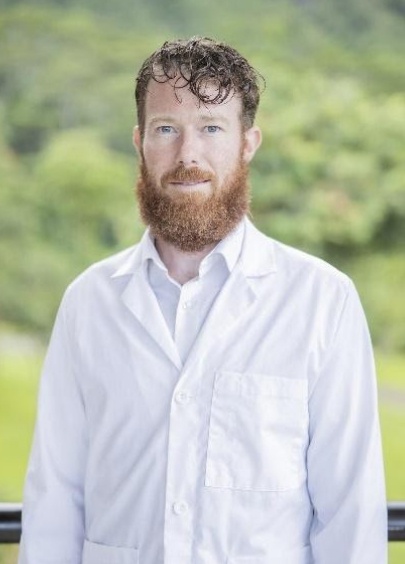 Expanding Your Neural "Networks"
Importance of Social Network and Spirituality
I am genuinely honored to welcome all of you to our second brain health and wellness symposium hosted by Hawaii Pacific Neuroscience and Honorary Collaborator Adventist Health Castle. We invite you to join us on this journey as we change our lifestyles with the purpose of slowing, halting, or even reversing numerous chronic illnesses that are detrimental to our brain health and functioning. As we navigate this road, you will be introduced to 6 pillars of health, all of which have equal importance. These pillars are physical activity, nutrition, mental fitness-exercising the brain, sleep & rejuvenation, social interaction, and medical management-this includes medication, tobacco cessation, and alcohol use. All I ask is for you to open your mind so we can attempt to improve your mental, emotional, physical, and your spiritual well-being.
Director, Lifestyle Medicine & Brain Wellness Center

Sub-Investigator, Clinical Research Center
Hawaii Pacific Neuroscience

6 Pillars of Mind-Fullness: Whole Brain Health
Avoid Insomnia with Rejuvenating Sleep –
Restoration and Healing for Your Brain ​
Treating the chronic pain patient: a multi-modal approach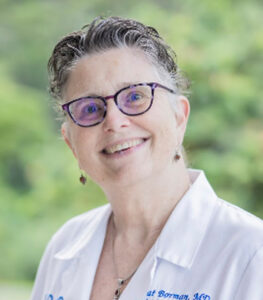 6 Pillars of Mind-Fullness: Whole Brain Health
Director, Memory Disorders Center
Sub-Investigator, Alzheimer's Research Unit
Hawaii Pacific Neuroscience
Avoid Insomnia with Rejuvenating Sleep –
Restoration and Healing for Your Brain ​
Director, Sleep and Insomnia Center
Sub-investigator, Sleep and Insomnia Research Unit
Hawaii Pacific Neuroscience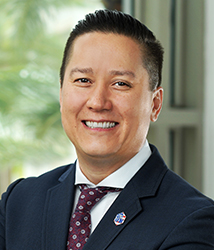 Treating the chronic pain patient: a multi-modal approach​
Interventional Pain Specialist,
ABMS Double Board-Certified in
Anesthesiology and Pain Management,
Hawai'i Pain and Spine
Treasurer and Executive Board of Directors, American Society of Pain and
Neuroscience (ASPN)
Board of Directors, Pacific Spine and
Pain Society (PSPS)
Immediate Past President, AZSIPP
"Love One Another"
How Socialization and Finding Community Impact Your Brain
Invitation to Greater Well Being
Enhancing Mental Health and Cognitive Efficiency as you Age: Finding peace through emotional, mental and cognitive health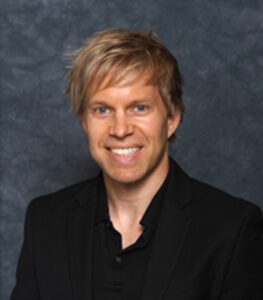 "Love One Another"-

How Socialization and Finding Community Impact Your Brain
Board Certified Neuro-Medicine Psychiatrist
Invitation to Greater Well Being
Director, Adventist Health Castle Wellness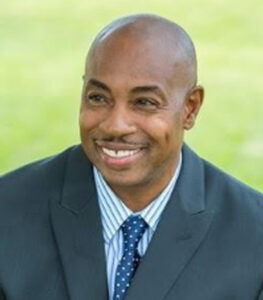 Enhancing Mental Health and Cognitive Efficiency as you Age:
Finding peace through emotional, mental and cognitive health
Diplomate Clinical Psychologist
Neuropsychologist
Who should attend?

– Physicians with an interest in Brain Health
– Health Care Providers with interest in Brain Health
– Patients with Neurological diseases
– Caretakers of patients with neurological issues
– Organizations or teams on the journey to help each other to achieve Great Health
– People who are new or experienced in Healthy Habits
– Individuals looking for a boost in their health
– Invite a friend/colleague and learn together
Symposium Activities-
-Educational talks by leading experts
-Interactive learning and experience
EVENT LOCATION
Ko'olau Ballrooms & Conference Center
45-550 Kionaole Rd, Kaneohe, HI 96744​​
For more information please feel free to contact a dedicated HPN Associate by calling or texting:
(808)261-4476
or email: info@hawaiineuroscience.com
For more information please feel free to contact a dedicated HPN Associate by calling or texting:
(808)261-4476
or email: info@hawaiineuroscience.com
this event is made possible by